Darker, Thicker, Fuller Lashes in just one appointment?! How does that happen, without looking natural? Nova Eyelash Extensions are the newest, safest way to enhance your lashes. They are individual lashes, and are fume free, as well as glycol and carbonate free. Not to mention, they are ophthalmologist tested! Nova Eyelashes are enhanced with plant extracts, pep tides and multi-vitamins to promote healthy lash growth of your natural lashes. They have a wide range of colors, sizes and textures to choose from. They are an instant "pretty" for and woman that desire longer, fuller lashes!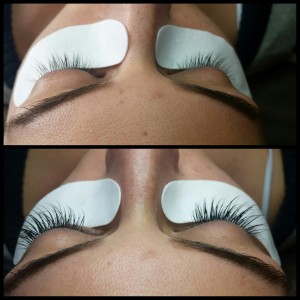 After taking forever to dry your hair in the morning, the last thing you want to see when you look in the mirror is frizz! A Keratin Complex Smoothing Treatment is the answer. Keratin technology infuses keratin deep into the hair cuticle, reducing up to 95% of frizz and curl, leaving the hair silky, shiny, and smooth! The time it takes you to get ready in the morning will be cut in half and your hair will be virtually maintenance-free! Unlike a lot of other services offered in the salon, a Keratin Complex Treatment actually makes your hair healthier, from the inside out! Results typically last 3-5 months. Make an appointment today for your frizz-free, shiny, smooth hair!
Where's all my blondes at?! We all have some breakage, but what if there was something that could help stop your hair from breaking? Or If you could Push Your Blonde to the next level without compromising your hair?
Olaplex is the new Gold for Hair. It is a bond re-constructor that works from the inside out. Olaplex rebuilds the bonds that have been lost through chemical processing and can also help in damaged hair from heat styling tools. AND its GREAT for ALL Hair types! Olaplex can be added into ANY color or highlight formula, and can also be used to Enhance a Keratin Smoothing Treatment. Oh, Did we mention it can be used as a deep conditioner as well!
The integrity is NO LONGER Compromised with Chemical Services in the salon! Olaplex has changed the Hair Industry for Forever, But in a Good Way!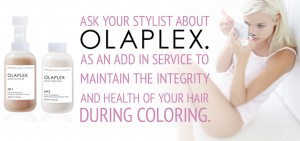 You may be wondering, How can I look Flawless ALL day long… The answer is finally here! Temptu Airbrush Makeup is an All day wear makeup. It is sweat and water proof, and oil free. It is silicone based, and is GREAT for ALL skin types. Being silicone based, it allows the skin to breathe and NOT clog your pores and cause breakouts. It can also aid in hiding tattoos, and most imperfections on your face.
Temptu is awesome for an everyday wear, and is also GREAT for weddings, and special events. Oh and did we mention its light weight, so it feels like nothing is on your face! Temptu is the new age of Makeup, so try it out today!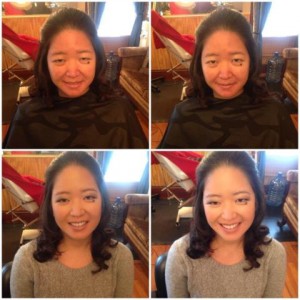 The most magical day of your life is quickly approaching- your wedding day! The last thing you should have to think about before your big day is hair and makeup. Our goal at The Arthur Company Salon is to make your wedding as stress-free and picture perfect as you have always imagined it. We offer everything you could possibly need to be the most beautiful version of yourself for your wedding. Start with a hair and makeup trial with one of our incredible stylists. During your trial, you and your stylist will create the up-do of your dreams and have your make up exactly the way you want it. Prior to your wedding, we offer facial services and treatments, spray tanning, and massages! Bring your wedding party into the salon with some snacks and champagne and have a girls' night while getting your nails and toes manicured! The morning of your wedding our team can come right to your location so you and your wedding party can get ready in the comfort of your home or your venue. The Arthur Company Salon is one decision you can make confidently for a gorgeous, stress-free wedding day!
Are you looking for that Caribbean glow, but are stuck here in the cold weather? Try our Spray Tan at The Arthur Company. Our state of the art spray tan, leaves a wonderful glow on the skin and does not leave you orange! The active ingredient is DHA. This is a colorless sugar that interacts with the cells in the top layer of the skin. As the sugar reacts with the skin cells, a color change occurs. Repeated applications will continue to darken the skin. Did we mention there are absolutely No harmful rays penetrating into the skin? Spray tans are the safest and fastest way to add color to the skin for any occasion or just everyday wear, and lasts 5-7 days.
Come into our salon today and get that fabulous glow, and have everyone wondering how you got it!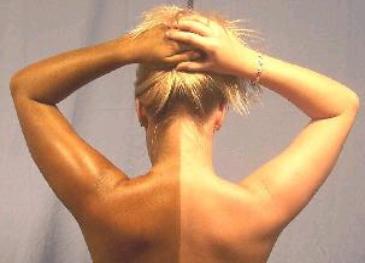 Do you like pedicures? Silly question! Who doesn't like pedicures! Best part about getting them done (besides the foot massage) is you get to enjoy the time with your girlfriends! Not only are pedicures relaxing but they are also great in maintaining good circulation!  Seriously think about it, your feet take a beating, and if you happen to be carrying extra weight on your frame, your feet get the brunt of it. The average person takes 8,000 to 10,000 steps a day, which adds up to about 115,000 miles over a lifetime!
Don't you hate when you walk into a spa and they one have one pedicure chair? Well here at The Arthur Company Salon we have three! Come in and enjoy that fabulous foot massage from one of our stylists & enjoy the large inventory of nail colors we carry!
We offer a Mini Spa Pedi (without the massage) & we also offer a full Spa Pedi!
How do you know if you have the perfect haircut? Does it fit your face shape? Is it the right length? At The Arthur Company Salon, we will guide you in the right direction for the perfect haircut!
As you look for a haircut you like, the idea of bangs, layers, and length always gets tossed around. But the famous question always comes out, "what do you think will look good?" When asked this question as a stylist, we put many things into play. What shape is your face? Do you want bangs, and if so what kind? Would you like it to be all one length or lots of layers? If you choose layers, what kind of layers; short or long. Most of all, we want you to Love the cut.
At our salon, we can cut your hair anyway you like to have it. From bobs, to long layers, short layers, men's cuts, one length, you name it we cut it. So, have you decided what you would like? Call our salon today to schedule your appointment!
Today, many people often get confused as to what the difference is between actual gel nails, and a shellac gel manicure. At The Arthur Company Salon, we are happy to say we offer both services. So now what's the difference? A shellac manicure is done with a gel polish. The gel polish is cured or "dried" under a UV lamp adhering it to the nail surface. The Shellac can and will last up to 2 weeks. As it grows out, it will look similar to an acrylic growing out. Shellac also has an immaculate shine during the 2 week wear. The polish is easily removed by soaking your nails in pure acetone.
Gel nails are a nail enhancement and similar to an acrylic, but softer. So if you are rough on your nails, gel nails might not be for you. Here at our salon, we prefer to sculpt the nails as opposed to using tips. Gel nails are "cured"  with a UV lamp. Gels have remarkable shine and NO odor! While having shine and no odor, gel nails are also flexible. They are not as easy to take off as the Shellac, and it is recommended to have them professionally taken off. Gel Nails are becoming more popular by the day.
Both of these nail options are GREAT for Brides, Special Events, or just an everyday wear. Call the salon today to schedule your nail appointment with one of our nail techs!
It's that time again at The Arthur Company Salon! Our skincare dept. is very busy with many different Facials for everyone's skincare concerns. This time of year, the weather takes a turn and mother nature changes our skin. Yesterday we were busy all day with several very popular Facials, Facials that help restore your skin and comfort you after along day or stressful week. Skincare is not just all about lotions and potions on the skin. Skincare goes deeper than that and our cutting edge treatments will bring back the health of your skin and make you smile again when you look in the mirror. Some of the corrective advanced Facials take the everyday Facial to another level. Yesterday there were several women in having Collagen Facials, but their needs were very different.  Collagen Facials are  dynamic and great for any gender, age or skin condition. Our guests chose this Facial with the assistance of our lead Esthetician because their skincare needs warranted this type.
Never had a Collagen Facial? Well it is amazing, restorative, soothing and very hydrating.  This Facial uses collagen protein to revitalize your skin while battling the aging process. This protein happens to be the natural protein that is in our skin, bone, tissue, and is found in the lower dermis. Collagen also is strongly responsible for maintaining the structure of the skin and its strength.  So, having a Collegian Facial makes sense especially if you are feeling that your skin looks tired and dry and lacks that dewy healthy look like a child's skin. Collagen is used in various things these days,  and you must know someone who has tried Collagen injections in their lips. At The Arthur Company Salon we use pure 100 percent Collagen Facial Masks. This Facial has many steps and when the Facial is over you feel amazing and your skin will Thank You!  When you decide to have this Facial our staff will inform you of all the benefits and all the steps. We want to educate our clients and also make every experience here a wonderful one, and a treatment you will reschedule over and over.
Collagen Facials are important to the skin's balance any time of year. These Facials can take the sting out of a face that has had too much fun in the sun in summer or winter. This Facial has saved many of our clients from the affects of a bad sunburn from a fun day out doors.  This Facial is also a wonderful choice for men. Men do not take the time to care for their skin as much as most women, but times are changing.  Our Skincare Dept. has seen more male clients wanting to erase the hands of time from their skin. Collagen Facials are helpful to men's skin because their skin can be produce much more oil, and shaving everyday can irritate the skin and cause ingrown hairs. In the job market,  many men are exposed to harsher work environments like landscapers, mechanics , construction workers, highway and road crews, fisherman , even our mailman etc. are in all types of climate changes. Many of the men today have figured out this service can be just as beneficial to them as the woman in their lives.
Having a Collagen Facial can also help clients who suffer from acne.  Acne can be very painful when the skin has so much inflammation. The Collagen Facial can soothe the skin and help eliminate inflammation and sensitivity, while hydrating the skin and helping to restore balance. A Collagen Facial starts like a regular Facial some of the steps maybe familiar to you but, soon into the Collagen Facial you will realize this Facial is lush and comforting, it has many different components and your skin feels like it took a step back in time. During the treatment there are several different types of Massage techniques used. These steps will differ from client to client for example; We would not use a rapid , stimulating massage step on Acne Skin, due to the fact we are trying to calm and balance the over active oil glands. But, with a client who has sluggish, dull , dry skin we would treat that skin type very different.  We want to awaken the skin, get the moisture and oil balance corrected and stimulate the oxygen in the skin cells. While doing this, the skin is getting a dewy fresh look, cell renewal is encouraged and the skin has a rosy color which means health.
Many clients are on several medications in our society. Medications can affect the skin and its  natural health more than you could ever know. Many clients come in thinking they are not doing something right or they just have lousy skin.  But the truth be told,  there are many medications that enter the blood stream and  your "Blood and Lymph" feed your skin therefore medications can greatly effect your skin.  Having a Collagen Facial will not cure all your skincare needs but it will be a step forward to improving your skin on every level.
This Facial includes an important element. Prior to the mask we gently press in Collagen and Elastin Ampoules into the skin as an added bonus and  work together with the  mask to be formed to our clients face. This step takes only seconds and then after the mask is formed it is saturated with distilled water to continue the process. This mask also helps to form the natural contour of the face and bone structure. During this process the client may feel a bit aware that something is on the face, but in no time this mask feels like your own skin. Then we apply steam.  The steam is gives the mask and ampoules the complete absorption effect, we want to promote health because the steam helps to open up the pores. The action of this replenishing, soothing, hydrating and revitalizing Facial can help your skin to not only look amazing, but feel more comfortable while taking away many days of hard work, and hard play.
For more information or to schedule a consultation please contact us at The Arthur Company Salon today. This Facial choice could just be what you have been looking for!