After a long summer of sunbathing and swimming, your sun kissed hair is probably looking for some TLC. Follow these tips to bring great hair into the Autumn with you!
–Trim Split Ends: Split ends can be caused by many different hosts, one being heat styling. We all know that the humid summer months means extra time with your flat iron. The only way to get rid of split ends is to cut them, so book an appointment with your stylist for a dusting and get your ends nice and healthy!
–Replace Lost Moisture: Dry hair is a huge issue heading into the Autumn months. Use a weekly deep conditioning treatment (Moroccan Oil Intense Hydrating Masque works great!) to re-moisturize your locks. Simply apply the masque after shampooing. Blast your hair with your blow dryer on medium heat to allow the product to penetrate the hair shaft. Once your hair is warm, leave it on for 10 more minutes then rinse!
–Detangle With Care: Damaged hair is fragile hair. Be gentle and take your time. Apply a leave in conditioner prior to combing (12 Benefits or It's A Ten are some of our favorites.) This will also act as a heat protector. Try using a wide toothed comb or a Wet Brush and detangle your hair starting at your ends.
–Tweak Your Color: As your tan fades, it is sometimes likely that your color will fade, as well.  After the summer and excessive exposure to the sun, salt, and chlorine you may realize your color isn't quite right. Maybe it's washed out or brassy. Refer to your stylist for a gloss to replace shine and luster or to change up your look for the fall! Always remember to consult with your stylist before trying to fix your color on your own, as you may end up with less than desirable results.
–Rinse With Cool Water: Rinsing with cool water will seal your hair's cuticle, making your hair smoother and less frizzy. Try adding a drop of essential oil to your styling products to also add extra shine!
Darker, Thicker, Fuller Lashes in just one appointment?! How does that happen, without looking natural? Nova Eyelash Extensions are the newest, safest way to enhance your lashes. They are individual lashes, and are fume free, as well as glycol and carbonate free. Not to mention, they are ophthalmologist tested! Nova Eyelashes are enhanced with plant extracts, pep tides and multi-vitamins to promote healthy lash growth of your natural lashes. They have a wide range of colors, sizes and textures to choose from. They are an instant "pretty" for and woman that desire longer, fuller lashes!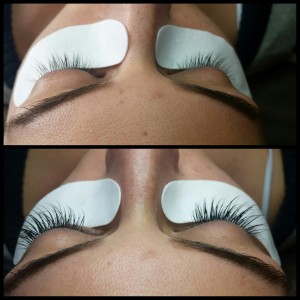 After taking forever to dry your hair in the morning, the last thing you want to see when you look in the mirror is frizz! A Keratin Complex Smoothing Treatment is the answer. Keratin technology infuses keratin deep into the hair cuticle, reducing up to 95% of frizz and curl, leaving the hair silky, shiny, and smooth! The time it takes you to get ready in the morning will be cut in half and your hair will be virtually maintenance-free! Unlike a lot of other services offered in the salon, a Keratin Complex Treatment actually makes your hair healthier, from the inside out! Results typically last 3-5 months. Make an appointment today for your frizz-free, shiny, smooth hair!