Where's all my blondes at?! We all have some breakage, but what if there was something that could help stop your hair from breaking? Or If you could Push Your Blonde to the next level without compromising your hair?
Olaplex is the new Gold for Hair. It is a bond re-constructor that works from the inside out. Olaplex rebuilds the bonds that have been lost through chemical processing and can also help in damaged hair from heat styling tools. AND its GREAT for ALL Hair types! Olaplex can be added into ANY color or highlight formula, and can also be used to Enhance a Keratin Smoothing Treatment. Oh, Did we mention it can be used as a deep conditioner as well!
The integrity is NO LONGER Compromised with Chemical Services in the salon! Olaplex has changed the Hair Industry for Forever, But in a Good Way!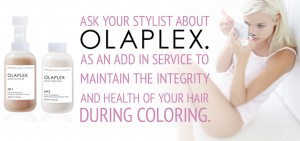 You may be wondering, How can I look Flawless ALL day long… The answer is finally here! Temptu Airbrush Makeup is an All day wear makeup. It is sweat and water proof, and oil free. It is silicone based, and is GREAT for ALL skin types. Being silicone based, it allows the skin to breathe and NOT clog your pores and cause breakouts. It can also aid in hiding tattoos, and most imperfections on your face.
Temptu is awesome for an everyday wear, and is also GREAT for weddings, and special events. Oh and did we mention its light weight, so it feels like nothing is on your face! Temptu is the new age of Makeup, so try it out today!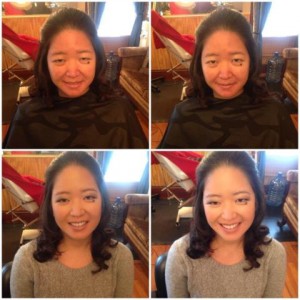 The most magical day of your life is quickly approaching- your wedding day! The last thing you should have to think about before your big day is hair and makeup. Our goal at The Arthur Company Salon is to make your wedding as stress-free and picture perfect as you have always imagined it. We offer everything you could possibly need to be the most beautiful version of yourself for your wedding. Start with a hair and makeup trial with one of our incredible stylists. During your trial, you and your stylist will create the up-do of your dreams and have your make up exactly the way you want it. Prior to your wedding, we offer facial services and treatments, spray tanning, and massages! Bring your wedding party into the salon with some snacks and champagne and have a girls' night while getting your nails and toes manicured! The morning of your wedding our team can come right to your location so you and your wedding party can get ready in the comfort of your home or your venue. The Arthur Company Salon is one decision you can make confidently for a gorgeous, stress-free wedding day!