The French Twist- This classic, elegant style is perfect for any fancy occasion!
The Fishtail Braid- The it braid! This style can be worn sleek or messy!
The Slicked Back Pony- Perfect for your fancy work Christmas party! Quick and easy, but sophisticated and sexy!
Big, Sexy Waves- A classic that will never go out of style!
The Bun-Headband Combo- A twist on the classic "messy bun" — you get extra points for wearing a jeweled headband!
All About The Bangs- If you've got 'em, flaunt 'em! Wear your hair back in a bun and let your fringe be your focal point!
Sultry Side Pony- Simple, yet gorgeous style for any party! Wrap a few strands of hair around your elastic for an elegant touch! 
The Top Knot- Playful and dress-ed up at the same time! And so easy to do!
At The Arthur Company Salon, our clients leave feeling confident and gorgeous! Choosing the right haircut for your face shape is so important. Here are some points to think about when discussing your next look with your stylist!
Heart– Side swept, soft bangs focus attention towards the eyes and away from a pointy chin. Mid-length loose curls draws attention to a strong jawline, without making it look harsh.
Long– Fringes hide a long forehead, making them very flattering on longer face shapes. Add a blunt bang or a soft side fringe to switch up your style and make it more flattering for you.
Oval– Long, textured, layered hair is great for an oval face shape. Adding layers accentuates your cheek bones, making it a very flattering cut. If you prefer shorter cuts, keep the back and sides trimmed and leave length & texture on the top, allowing your hair to highlight your facial features.
Round– The most flattering cut for a round face shape is any hairstyle that will make the face appear slimmer. Very short hairstyles generally won't suit a round face shape as it makes your face appear bigger than it is; resulting in an unflattering style. If you are looking for a short cut, try making the front longer, an angled bob suits a round face- elongating it and making it appear more narrow and slim.
Square– A haircut that appears to narrow the face is ideal when you have a square shape. A modern bob is one of the most flattering cuts for a square face shape, softening the jawline. A center part with lots of textured layers tends to be a great cut for a square shape.
             Heart
              Long
              Oval  
             Round
           Square
Do you find that during the Fall and Winter months your skin feels dry and flaky? Preparing your skin for the cooler months ahead is very important to keep your skin feeling and looking fabulous. Here are some tips to help get you through the cool months:
Exfoliate! Exfoliating is a very big part in keeping your skin looking and feeling amazing. Exfoliating removes the dry skin, and helps unclog your pores of dirt and debris before cleansing and moisturizing your skin. Exfoliate with an oil-based scrub. The summer sun and chlorine may have left your skin feeling dry and flaky. Oil-based scrubs are wonderful because they exfoliate and hydrate.
Maximize your Moisturizer! We just cant say it enough during the winter months to constantly moisturize your skin! As the air becomes drier, your skin needs a thicker moisturizer. Creams provide a stronger oily barrier, which means they both reduce water loss from the outer layer of skin and provide hydration to this layer of skin at the same time.
Your Lips need Love too! Start moisturizing now to prevent dry, cracked lips this winter. Use a non-petroleum based lip balm for best results.
After a long summer of sunbathing and swimming, your sun kissed hair is probably looking for some TLC. Follow these tips to bring great hair into the Autumn with you!
–Trim Split Ends: Split ends can be caused by many different hosts, one being heat styling. We all know that the humid summer months means extra time with your flat iron. The only way to get rid of split ends is to cut them, so book an appointment with your stylist for a dusting and get your ends nice and healthy!
–Replace Lost Moisture: Dry hair is a huge issue heading into the Autumn months. Use a weekly deep conditioning treatment (Moroccan Oil Intense Hydrating Masque works great!) to re-moisturize your locks. Simply apply the masque after shampooing. Blast your hair with your blow dryer on medium heat to allow the product to penetrate the hair shaft. Once your hair is warm, leave it on for 10 more minutes then rinse!
–Detangle With Care: Damaged hair is fragile hair. Be gentle and take your time. Apply a leave in conditioner prior to combing (12 Benefits or It's A Ten are some of our favorites.) This will also act as a heat protector. Try using a wide toothed comb or a Wet Brush and detangle your hair starting at your ends.
–Tweak Your Color: As your tan fades, it is sometimes likely that your color will fade, as well.  After the summer and excessive exposure to the sun, salt, and chlorine you may realize your color isn't quite right. Maybe it's washed out or brassy. Refer to your stylist for a gloss to replace shine and luster or to change up your look for the fall! Always remember to consult with your stylist before trying to fix your color on your own, as you may end up with less than desirable results.
–Rinse With Cool Water: Rinsing with cool water will seal your hair's cuticle, making your hair smoother and less frizzy. Try adding a drop of essential oil to your styling products to also add extra shine!
Darker, Thicker, Fuller Lashes in just one appointment?! How does that happen, without looking natural? Nova Eyelash Extensions are the newest, safest way to enhance your lashes. They are individual lashes, and are fume free, as well as glycol and carbonate free. Not to mention, they are ophthalmologist tested! Nova Eyelashes are enhanced with plant extracts, pep tides and multi-vitamins to promote healthy lash growth of your natural lashes. They have a wide range of colors, sizes and textures to choose from. They are an instant "pretty" for and woman that desire longer, fuller lashes!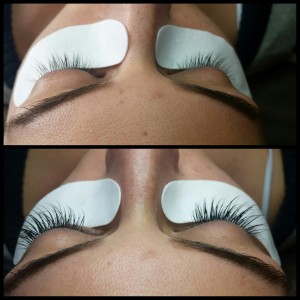 After taking forever to dry your hair in the morning, the last thing you want to see when you look in the mirror is frizz! A Keratin Complex Smoothing Treatment is the answer. Keratin technology infuses keratin deep into the hair cuticle, reducing up to 95% of frizz and curl, leaving the hair silky, shiny, and smooth! The time it takes you to get ready in the morning will be cut in half and your hair will be virtually maintenance-free! Unlike a lot of other services offered in the salon, a Keratin Complex Treatment actually makes your hair healthier, from the inside out! Results typically last 3-5 months. Make an appointment today for your frizz-free, shiny, smooth hair!
Where's all my blondes at?! We all have some breakage, but what if there was something that could help stop your hair from breaking? Or If you could Push Your Blonde to the next level without compromising your hair?
Olaplex is the new Gold for Hair. It is a bond re-constructor that works from the inside out. Olaplex rebuilds the bonds that have been lost through chemical processing and can also help in damaged hair from heat styling tools. AND its GREAT for ALL Hair types! Olaplex can be added into ANY color or highlight formula, and can also be used to Enhance a Keratin Smoothing Treatment. Oh, Did we mention it can be used as a deep conditioner as well!
The integrity is NO LONGER Compromised with Chemical Services in the salon! Olaplex has changed the Hair Industry for Forever, But in a Good Way!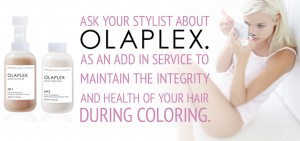 You may be wondering, How can I look Flawless ALL day long… The answer is finally here! Temptu Airbrush Makeup is an All day wear makeup. It is sweat and water proof, and oil free. It is silicone based, and is GREAT for ALL skin types. Being silicone based, it allows the skin to breathe and NOT clog your pores and cause breakouts. It can also aid in hiding tattoos, and most imperfections on your face.
Temptu is awesome for an everyday wear, and is also GREAT for weddings, and special events. Oh and did we mention its light weight, so it feels like nothing is on your face! Temptu is the new age of Makeup, so try it out today!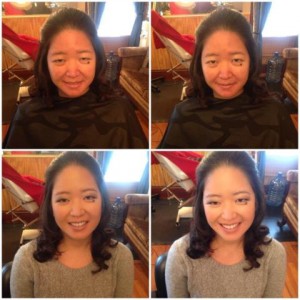 The most magical day of your life is quickly approaching- your wedding day! The last thing you should have to think about before your big day is hair and makeup. Our goal at The Arthur Company Salon is to make your wedding as stress-free and picture perfect as you have always imagined it. We offer everything you could possibly need to be the most beautiful version of yourself for your wedding. Start with a hair and makeup trial with one of our incredible stylists. During your trial, you and your stylist will create the up-do of your dreams and have your make up exactly the way you want it. Prior to your wedding, we offer facial services and treatments, spray tanning, and massages! Bring your wedding party into the salon with some snacks and champagne and have a girls' night while getting your nails and toes manicured! The morning of your wedding our team can come right to your location so you and your wedding party can get ready in the comfort of your home or your venue. The Arthur Company Salon is one decision you can make confidently for a gorgeous, stress-free wedding day!